3.3 Terrell L Noffsing, Copilot on a C-47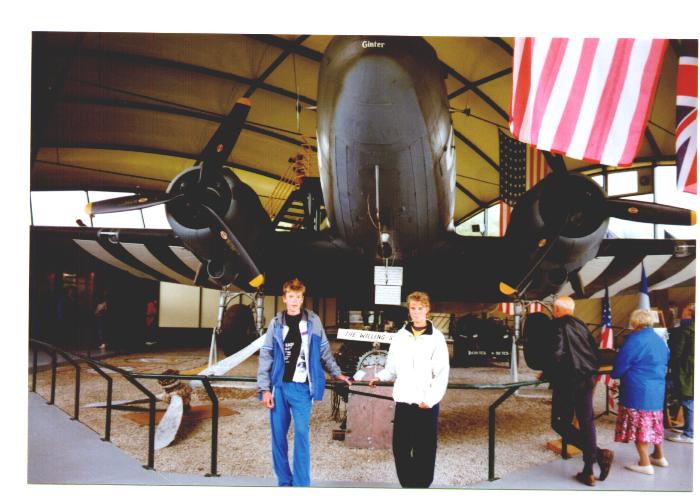 2nd Lt. Terrell Noffsing was meteorologist with the 313th Troop Carrier Squadron, of the 52nd Troop Carrier Wing. He flew as copilot with Col. R.H. Monroe, the Group's operations officer. Terrell says the following about the night of June 5th.
I was very aware of the possible dangers that were involved with missions over enemy territory. In the invasion of Sicily the invasion fleet opened fire on the C-47's that flew the 82nd Airborne Division into Sicily, thinking they were under attack of German dive-bombers. I lost my tent mate in this disaster. The deputy commander of the squadron was wounded by this "friendly?? fire". My friend Bill Ennis was shot down in this incident, but was picked up unharmed by the navy. We had been training with the 82nd Airborne Division since they were pulled out of action in Italy and were brought to England. The men of this division were the first we were going to drop on D-day. We were briefed together with the airborne troopers before take off.
From the moment that the first airplanes took off from our airfield near Falkingham it seems that the air was constantly filled with aircraft's. This would hold on for the coming 36 hours. Our airfield was in the southern part of England, so that we could see all the aircraft's come over that had taken off from field more to the north. We had several missions ahead of us that night. Col. Monroe was an old-timer at flying the C-47 airplane who this time seemed like always unexcited no matter what happened. Despite his calm demeanor I was scared when we arrived over the continent and that feeling did not go away when bursts of anti aircraft fire appeared near our plane. Up to the point that we reached the drop zone I did however had some casual conversation with the paratroopers. Then came the time to drop the paratroopers an after a successful drop we returned to our base and made ready for our next mission.