PREPARATIONS FOR THE INVASION
Tallie Crocker 4th Inf. Div.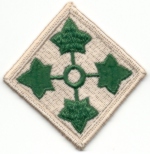 We had arrived in England on January 29th 1944. Once in England we continued the training that we had received in the several camps that we had gone through in the States.
I was a heavy weapons company commander in the Twelfth Infantry regiment at the time. At the age of 23 this meant that I had 158 men and six officers under me. This was of coarse a huge responsibility for such a young man. When the invasion came closer we were wondering how everybody would perform under hostile fire. This was the first experience we had with the enemy and as later turned out it is absolutely impossible to predict accurately how somebody would react when he was subjected to fire.
As far as planning was concerned, I was really amazed, because it seemed that the staff under General Eisenhower had thought of everything.
A few weeks prior to the invasion we were taken to a sealed security camp in southern England. That is where we received the equipment that we would take with us onto the beach. Each man was given a bag for seasickness, pills for seasickness and condoms to keep watches, wallets and other stuff dry. We all received a second first aid packet, which contained a morphine syrette to be used when needed to relieve the pain of wounds until proper medical attention could be obtained.
Once in the sealed security camp all the officers of the rank of Captain or higher were briefed daily on the details of the invasion. We then knew that it was going to be Normandy. We were shown scale models and we learned about the strength of the German defenses. Intelligence provided us with information on the obstacles as well as the known defense forces. The regular soldier and non-coms only knew that they were going to be part of an invasion in western Europe at that time. In one of these update briefings, the briefing officer said that aerial pictures taken the previous day indicated that a German artillery unit hand located in the Normandy area. This was determined by the increased population of horses on the peninsula. Everyone wanted to know what the increase in horses had to do with the artillery. We were told that the German artillery pieces were horse drawn! We as an American heavy weapons company were very used to vehicles and we were very surprised to hear of this archaic practice by and army that wanted to conquer the whole of Europe.