Victor Miller, 5th Ranger Battalion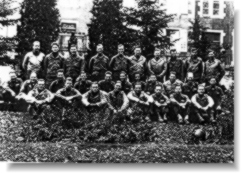 Amphibious training started after I joined the Rangers. We were still training in the States at that time. We spend two weeks in Florida, doing our training on rubber boats in the ocean.
We were send to Europe and after a long journey we finally wound up in Tighnabrau, Scotland. The time we were there we went out into the ocean each day in assault boats. The boats rounded up at some point in the ocean, we then tuned back and landed by wading in waist deep water. Once a shore we hiked about five miles over the hills and then attacked. (We didn't knew it then, but that was the same procedure as our mission on D-day would be. Landing on Omaha and then hiking towards Pointe du Hoc whic is located five miles west from Omaha Beach).
We went through the whole procedure numerous times, before we were moved to England. We were stationed in the south of England, where our training continued. By that time I had been hospitalized, due to a fractured bone in my foot, which I had received due to all the hiking.
I was lucky to be in the hospital at that time, because training became more rugged in southern England. Rock climbing was done there many became wounded by falling rocks, several even severe. These exercises were later abandoned because of the high casualty rate.
The guy that was in the bed next to me was discharged some time before I was. He rejoined his own unit but couldn't enjoy it very long. Within two days he was back in the hospital, this time with serious wounds. He had been with his unit on a ship for a practice run on the beaches in south England, when one of the GI's threw his BAR-machine-gun on the table. The gun was loaded and started going off. Several men were wounded because of this stupid incident.